Hi Jammers! There was an update today, o more stuff about Juno! I think she is a pretty cool Alpha actually!
And notes from the Alpha:
yes I realize that is terribly edited, it is for a point.
If you type the code 'Juno' you will be rewarded with this statue!
So, it looks like to protect Balloosh and its residents, Juno gave up
her
... essence I guess it'd be called. It begs the question, who are Star and Fang? The only Fang in Jamaa we know is uh..
this guy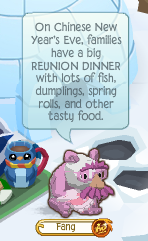 photo credit Animal Jam Wiki
So its probably not him. My first thought would be the Sabertooth and Direwolf alphas. Star the Sabertooth and Fang the Direwolf
Or..
Fang the Sabertooth due to their fangs that stick out.. can anybody tell me if they both have the star pattern? I'm wondering if that has anything to do with it.
There must be more then the Sabertooth and Direwolf Heartstone hidden in the Temple of the Ancients, I looked around a bit and here is what I found that may lead to future discoveries...
you photo bombed it Icy..
I feel like this may open up any time now, I'm wondering what it is..
I could not get a good screen shot of this, but this crystal may open up.
This seems like a room? I have no idea, who knows.. XDD